Many people don't know the difference between therapy dogs, service dogs and emotional support animals (ESAs), but there are some major differences! If you have the goal of helping others, check out the therapy dog section below. If you have the goal of your dog helping you, check out the service and emotional support animal sections!
Therapy Dogs, The Day Brighteners
Therapy dogs are the day brighteners of the working dog world! Dogs team up with their handlers and visit schools, nursing homes, hospice patients, clinical settings and workplaces to spread joy. Therapy dog teams are made up of a very specifically gifted dog partnered with a dedicated human handler.
There are three categories of therapy dogs:
Therapeutic Visitation Dogs – visit schools, nursing homes, hospitals, etc.
Facility Therapy Dogs – work full time in schools, courtrooms, offices, campuses, assisted living.
Clinical Therapy Dogs – active part of therapeutic process partnering with speech therapists, occupational therapists, memory care specialists, trauma therapists, counselors, and other mental health professionals.
Therapy dogs don't have any access rights that a typical pet dog doesn't have (dog-friendly places only) EXCEPT when asked to visit a facility.
Service Dogs, The Assistance Dogs
Service dogs are considered assistance dogs in that they are trained to help people with disabilities. They are specifically and highly trained to perform tasks that the individual is not able to perform themselves. There are many types of service dogs, including:
Allergy Detection
Autism Support
Diabetic Alert
Guide Dog
Hearing Assistance
Mobility Assistance
Psychiatric Service/Support
Seizure Alert
Service dogs support only the individual person they're trained to respond to. They aren't therapy dogs for others, and although they may provide emotional support, they require significantly more training than an emotional support animal. Service dogs and service dogs in training are allowed access to anywhere their handler must go (in the state of MN), according to the Americans with Disabilities Act. 
Emotional Support Animals, The Steady Companions
Emotional support animals (ESAs) are prescribed by a doctor or mental health professional for the benefit of helping provide comfort to the owner. These dogs are given access to housing that may not otherwise allow dogs but have no other access rights.
The following chart from Project Canine offers some additional insight!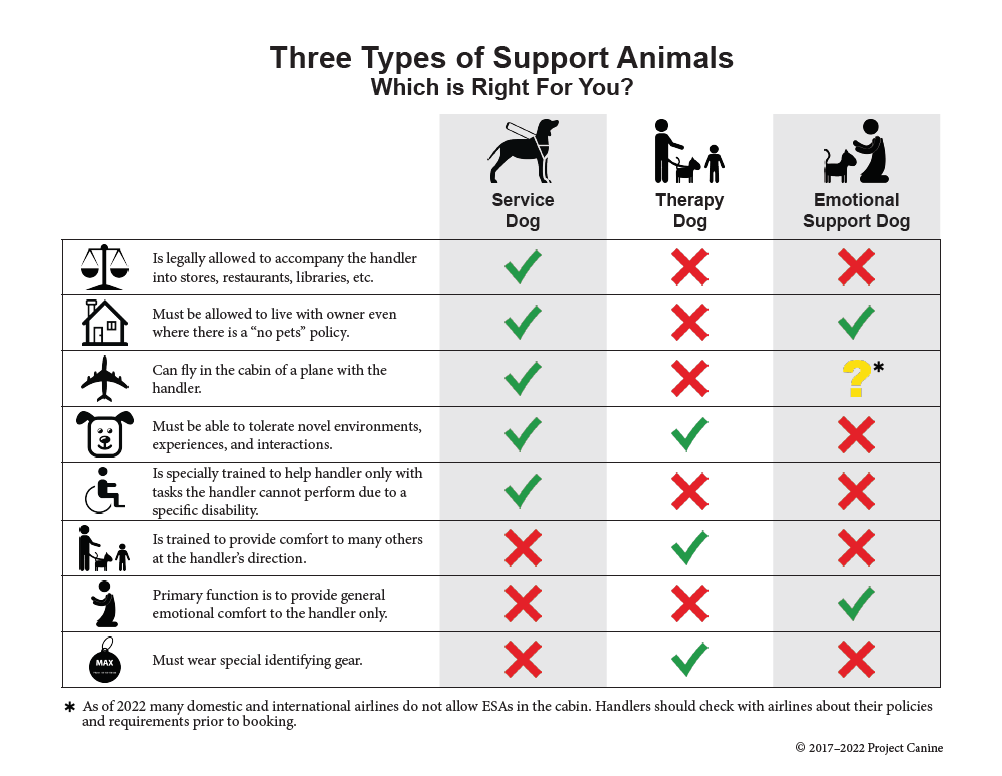 Our Training
We have a series of classes we recommend for therapy dog teams, and we can offer local evaluations for them. Check out our Therapy Dog Institute page for more info or check out this blog about training a therapy dog here!
NOTE: We only provide basic obedience training for service dogs and emotional support dogs and we're not able to certify either of these types of dogs.
It's not advised to train a dog to do therapy work AND service work, due to the conflicting overall goals of both. For example, if you train your dog for service work, they are specially trained to assist you and only you in your day-to-day life. You would not want to also give the same dog the job of comforting others. A potential candidate may be more inclined to do one of these jobs, but almost never both. Some dogs will want neither!
We may be able to help point you in the right direction after meeting your dog. Contact us to schedule a free evaluation!