Do you have a strong desire to volunteer your time helping to brighten the lives of children in schools, patients in nursing homes, clinical settings and hospice, students during finals week, or employees in high-stress jobs? Do you have a dog you think might make a good candidate for this extremely important work? Not sure where to start? We can help! Therapy dog training can be a long, but extremely rewarding undertaking!
We've developed a program we're calling the Therapy Dog Institute at Copper Pines, with the help of local experts at Birchwood Counseling and ARI-SAR. Our Therapy Dog Institute is designed to guide you from the initial idea of owning a therapy dog, through training and registration, even into setting up a new therapy dog program at your place of employment!
NOTE: Therapy dogs, emotional support dogs and service dogs are very, very different. If you're not sure which you're looking for, check out this post about it!
Does Your Dog Have What It Takes to Be a Therapy Dog?
IF you already have a dog you're considering doing therapy dog work with, contact us about setting up a free evaluation. We can't say for sure from a one-time meeting that your dog will make a good therapy dog, BUT we can usually see any major issues that would indicate that your dog may have another career plan in mind!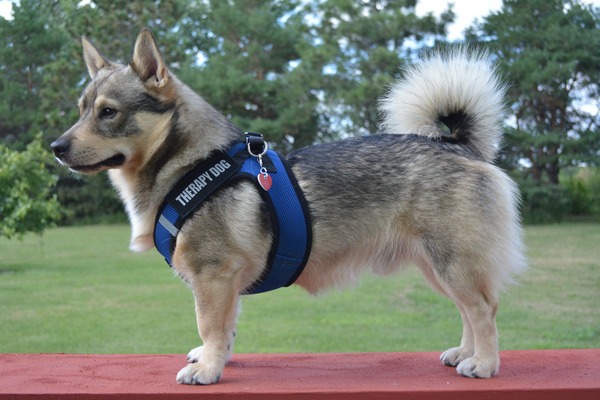 Here are some traits a therapy dog absolutely has to have:
A natural gift for connecting with people,
A LOVE for meeting new people (not just tolerance for it) and are open and affectionate with everyone they meet,
The ability to stay calm, confident and comfortable when meeting all kinds of new people, animals, and in new environments,
No preference for personal space,
Welcome attention, cuddling, petting and affection from strangers,
No history of aggression toward people or dogs.
Must be at least one year old at the time of registration.
If you don't have a dog yet, we'll be sharing information soon about how to evaluate potential dogs or puppies to help you be more successful in choosing one. But note, no evaluation can 100% successfully predict a puppy's career path!
Do You Have What It Takes to Partner with Your Dog?
Dog owners that are interested in therapy dog training may not realize the commitment they're making! If you're raising a therapy dog from a puppy, you'll need to plan to spend about 18 months on the process! Naturally gifted older dogs (1 year and up) may only need a few months of training to become a registered therapy dog.
Once they're ready, your dog will have to pass a temperament test with the therapy dog organization of your choice. Most require a Canine Good Citizen test (CGC test) as well, along with some paperwork from you.
The registration process may include:
Application and application fee,
Membership/liability insurance fees,
Background check,
Personal references from someone that knows you and your dog,
Handler training and testing,
Animal health screening, proof of vaccinations.
Once you and your dog have completed all of the registration items there may be continuing education requirements. The need for training with your dog doesn't end when they receive their registration either!
Depending on where you'd like to visit with your therapy dog team, you may be asked for a weekly commitment, an on-call commitment, or to participate when you're able. Some therapy dog organizations have a requirement for a minimum number of visits per year to remain active.
Ready to Become a Therapy Dog Team? Where Should You Start?
If you already have a dog, here are the steps we recommend:
Schedule a free evaluation at Copper Pines so we can meet you!
Take the Therapy Dog Basics and Considerations class in person or online.
Sign up for training if needed! Check out our Therapy Dog Institute page on our website for an overview of what we recommend. If your puppy is over 6 months or has already passed the CGC test, you might already have progressed past some of these classes. The Temperament Testing is included in any training package.
Prepare for and complete the Canine Good Citizen (CGC) test. This test is included in our Fundamentals 2 class or may be taken separately at any time for a small fee.
Determine which therapy dog organization you'd like to register with and complete their application requirements.
Complete your dog's evaluation with the therapy dog organization you've chosen.
Start spreading cheer!
Contact us for more information – we're so excited to help create successful therapy dog teams in our area!