Puppy Fundamentals 1 Course – $240.00
This class is for Puppies under or very near 6 months at the start of class! Puppies should have at least 2 rounds of their puppy vaccines to attend.
This class meets once per week for 6 weeks, usually on Monday evenings. Classes are occasionally also offered on Thursday evenings.
Each session will build off of the prior week's course, giving puppies and owners a wealth of information and skills related to leadership, puppy behavior, obedience, confidence building, wellness/first aid and of course, socialization with other puppies and humans in group play!
We have a limit of 6 puppies per class. Attendance at all 6 classes is strongly encouraged! IF you attend all 6 classes, your puppy is eligible to take the AKC's S.T.A.R. Puppy evaluation for a certificate and medallion!
BONUS: Graduates and current attendees are invited back for weekly play dates with other graduates of the program – at no additional cost! This is a great way to be sure puppies stay well socialized into adulthood!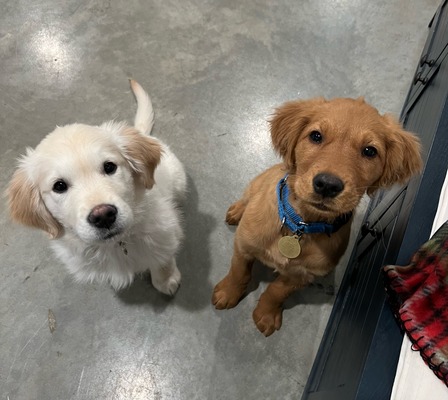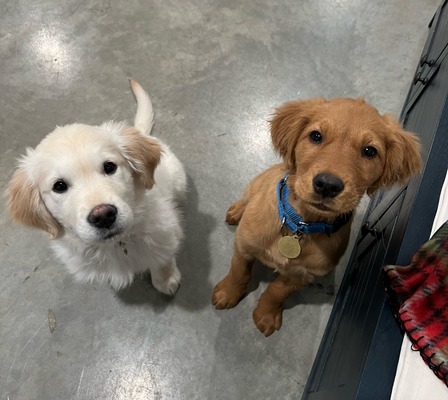 Puppy Fundamentals 2 Course – $240.00
Dogs and Puppies Over 6 Months of Age
During the 6-week course we will teach you how to work with your dog on more advanced obedience. This consists of loose leash walking and walking past people and other dogs. We practice longer stays in the sit, down and place, with more distractions. Puppies learn to come when called from further distances, and work on longer waits while you are out-of-sight. We also work on door and food manners, taking treats softly, greeting strangers and overall impulse control. We address behavior concerns as they appear, answer questions, and provide insight to your puppy's behavior. This class is an AKC CGC (Canine Good Citizen) preparation course, and the CGC is administered on the final night of class.
NOTE: If your dog or puppy shows signs of aggression, contact us for a free evaluation before signing up for this class!
AKC's Canine Good Citizen Test – 1 session – up to $15.00
The AKC's CGC test is a requirement for nearly all therapy dog organizations. If you take the CGC as part of the Fundamentals 2 class, there is no charge to administer the test. If you take the CGC test independently of the Fundamentals 2 class, there is a $15.00 charge. The AKC charges approximately $20 to file the official form (this is paid directly to the AKC).
Canine Cognition Testing with Ford K9 – Working Spot $400, Audit $200 
Join us for another seminar with the very knowledgeable team at Ford K9!
We're doing 3 days of Canine Cognition testing for handlers that want to learn more about their dog! This is for dogs in any career – working, sporting, therapy, detection, hunting, you name it!
Cognition testing evaluates dogs on how they perceive, think, remember, judge and problem-solve. Knowing this about your dog can help you adjust your training plans for the most effective and efficient experience for you and your dog!
Because Cassie is a Search & Rescue Tracking Dog Handler, we also occasionally offer Search & Rescue classes as well, including:
FUNSAR/SARTECH II
First Aid/CPR
Wilderness First Aid
Pet First Aid/CPR
Tracking, Area Search or Human Remains Detection Seminars
Contact us or check our Facebook events for availability!